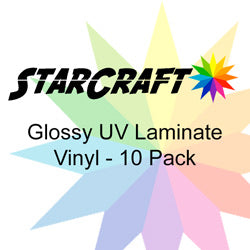 StarCraft Glossy UV Laminate (10-Pack 8.5"x11" Sheets)
Protect your StarCraft inkjet printable adhesive vinyl designs using StarCraft Glossy UV Laminate.  UV Laminate protects your design from harmful ultra-violet light sources.  Our UV Laminate is specially made to repel adhesives, dirt, grime, and other contaminants  
Application Instructions
1.  Print images onto StarCraft inkjet printable adhesive vinyl using a standard consumer grade inkjet printer.  (no laser printers)
2.  Apply StarCraft UV Laminate over the design carefully, avoiding air bubbles.  A squeegee is recommended for application.  It is not recommended to apply an entire sheet if not necessary, apply only enough to cover your printed design.
3.  Cut around your design using print and cut technology with a die-cutting machine and software.  Additional pressure or multiple cuts is normally required since the laminate adds another layer. 
4.  Peel and stick your design to a clean, dry, wax-free surface.  
Additional Notes
Our UV laminate is specially formulated to repel dirt, water, and adhesives.  This means the use of transfer tape may be difficult or even impossible.  We recommend simply peeling and sticking your design onto the desination surface.  If your design has small parts that are separated, this may complicate application.
Care Instructions
1.  Do not use in dishwasher or microwave.
2.  Exposure to harsh environments may reduce life expectancy.
 
choosing a selection results in a full page refresh